Welcome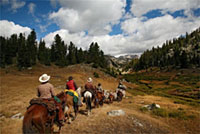 The Pollard family has been in the hunting, guiding, fishing and wilderness pack trip business in the Wind River Mountains of Wyoming since 1952! My grandfather, Archie, built the first lodge on Half Moon Lake in 1952. I have had my Wyoming Outfitters License (BG71) since 1976 and worked as a guide/packer for my Grandfather for 10 years prior to that point in time. I received my BS degree in Wildlife from Utah and Weber State Universities in 1972 and have put that knowledge to work in our Outfitting Business. Our business is truly a Family Operation and I am proud to note the following Awards from the Wyoming Outfitters & Guides Association:
My daughter, Nycole, won the Guide of the Year Award for Wyoming in 2006
My son, Travis, won the Guide of the Year Award for Wyoming in 2001!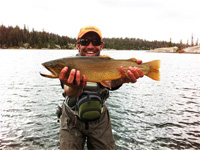 Bald Mountain Outfitters has the expertise and knowledge to provide you with a well-organized, safe and exciting excursion. We provide our guests with the experienced staff who know our area, gentle and dependable horses and mules, comfortable, clean camps and quality gear. We work hard to make certain that your activity with us is a truly enjoyable experience.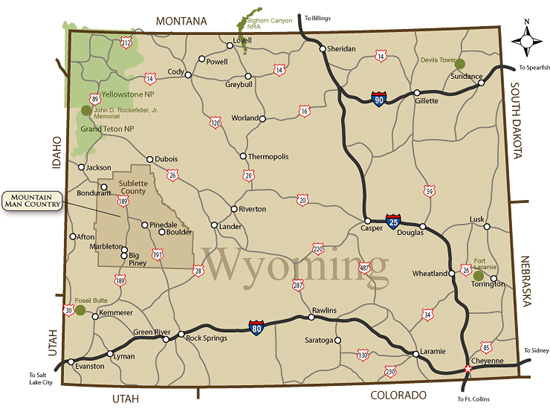 Summer Activities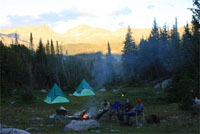 The Bridger Wilderness Area continues to offer some of the finest trout fishing, unexcelled scenic values, wildlife sighting and access to Wyoming's highest Peaks. We offer a full range of summer activities including: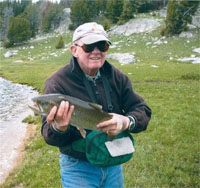 Our County, Sublette, is the home of the World and State Record Golden Trout and the State Record Rainbow, Cutthroat, Grayling, and Brook Trout (we also pursue Brown Trout, Lake Trout, Splake and other Hybrids). Our Fishing and Pack Trip opportunities are truly unsurpassed for the novice or expert and for the fly or spin fisherman. Our ideal location, near Elkhart Park, affords us the best access to the highest peaks in Wyoming. We tailor our Gear Spot Packs to the back-packer and mountain climber and hope that you will consider our services to support your Wilderness excursion.
Our dates are booking fast for the summer 2018 and I hope that you will contact me soon to secure your desired trip dates.
Welcome
I strongly recommend that you consider purchasing travel insurance prior to arrival for your planned Summer or Hunting excursion. I recommend the insurance listed under the WyOGA web page (www.wyoga.org).
Check Out the Latest Hunts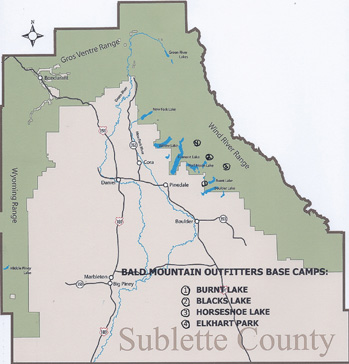 We are extremely fortunate to be able to offer you that Quality Hunting Excursion from one of our three Hunting Base Camps, our day use hunting camp near Elkhart Park and from the town of Pinedale.
The major species that we currently hunt include Elk, Shiras Moose, Black Bear and Pronghorn. We have been enjoying 100% success on our Elk Licenses (bull and cow) but I strongly recommend that you allow me to make that application for you. It is taking 19 plus Preference Points to draw your Moose License at the present time. The Game and Fish has combined our hunt areas 3 and 4. This change is very good for our hunting opportunities. Our hunt area 25 has 2 Random Licenses that anyone can draw who applies for area 25. Our Pronghorn licenses are taking at least 2 Preference Points while the Bear License is still purchased over the counter.
We normally have available Bull and Cow Elk licenses available in July but please note that my 2020 Bull Elk Hunt dates are full unless we experience any cancellations. You should contact me prior to applying for the left over bull licenses as to any availability. We do have available Cow Elk Hunting Dates and the licenses will be 100%. It should be noted that the Game and Fish as maintained the Elk License Drawing deadline at January 31st, 2020 but the licenses will not actually be drawn until May!
We experienced an extremely devastating winter in 2016/2017 with 210% of normal snow pack and very cold temperatures. The resulting Mule Deer winter kill has necessitated in my cancelling all Deer hunting for the near future. Thank God for our Elk Feed Grounds as our Elk didn't experience any unusual winter kill. Our Moose winter in the thick willows, near the ranchers 'feed lines' and therefore faired O.K. over the winter as well.