Shiras Moose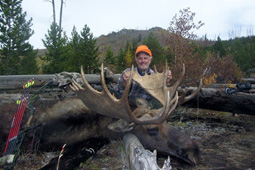 We have arguably became one of the foremost Moose Outfitters in the State of Wyoming! Our Moose population continues to thrive and I am happy to report that we are sighting & harvesting some tremendous bulls! We provide both a Wilderness Horseback Hunt and a Private Lands Hunt, depending on your specific hunt area drawn and your personal preferences. Our consistently high kill success rates are testament to our Moose population, hunt areas and guiding ability. Your Wilderness Horseback Hunt will be conducted from our Wilderness Spike Camps, , Burnt Lake Drive in Camp, Elk Hart Pack Station or either of our Wilderness Base Camps, depending on specific moose activities. Your Private Lands Hunt will be conducted from our Bunk House, Burnt Lake Drive-in Camp, or local Motels/Lodge depending on your personal preference and specific moose activities.
Licenses are on a Preference Point System and we have been drawing hunters with 19 plus points. You could draw that coveted license any given year as 25% of the quota is set aside for an open drawing. I prefer to help with the license system and suggest that you book your hunt and allow me to assist with the license process.
Wilderness Horseback Hunt
(5 Days of Hunting, 7 Day total with pack in and pack out)
$7,500.00
plus 4% tax
Private Land Hunt
(5.5 Days of Hunting, 6 Day total)
$7,500.00
plus 4% tax
Click here to view more photos.