Fishing & Bridger Wilderness Pack Trips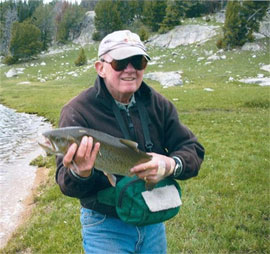 We are pleased to let you know that my daughter, Nycole Pollard, will again be Ram Roding our summer activities and will be joined by my wife Barbara and our dedicated professional staff. Our season will start May 1 with Antler Hunting and will end with our Hunting Season beginning on September 15.
Bridger Wilderness Pack Trips:
All Accommodations Pack Trips
$400.00 per person per day (groups of 4 or more)
$425.00 per person per day (groups of 2 or 3)
These deluxe wilderness pack trips provide everything that you will need for your comfort and safety in the wilderness for these trips from 4 to 14 days. We provide both "base" type trips as well as "roving" type trips through the wilderness. The only items that you would be asked to provide would be your personals, toiletries, sleeping bag, fishing license and fishing gear.
We Provide:
Quality tents with sleeping cots and sleeping pads
Experienced cooks, camps jacks and guides
Gentle dependable horses and mules
Expertly prepared meals by our full time cooks
Experienced, knowledgeable guides for exploring the wilderness, climbing non-technical peaks, explaining flora and fauna of the area, and providing expertise for catching the many trout species of the area
We keep a full herd of gentle mountain horses on these trips and take daily excursions from our base camps as well as from our roving camps.
Spot Pack Trips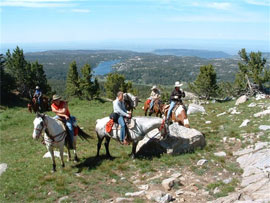 (Price is for 4 or more people, call for price quotes on less than 4 people)
$550.00 per person round trip (price includes 1 ride + 1/2 pack animal per person - 75# per person)
$300.00 per person one way (price includes 1 ride animal & 75# of gear)
Extra pack animals $175/day/animal
These wilderness pack trips provide you with riding and pack animals to pack you and your equipment into the wilderness. We offer both one and two way trips for your convenience. We provide our gentle dependable horses and mules, supplied with both box as well as bag type panniers to pack your gear into your camp site of choice. We recommend ideal camp sites or simply pack you to your favorite site. You supply all of your own food and camping equipment and would be on your own. We will gladly locate you in areas that provide ideal fishing and scenic values with the potential for day trips to a variety of different areas, streams and lakes. We have the facilities to pack your gear in your backpack frames, duffel bags or loose, at your discretion.
Gear Spot Pack Trips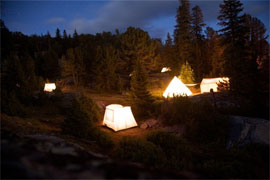 $225.00 per day guide/wrangler (& horse)
$195.00 per day per pack animal (150# per)
$200.00 per day per extra wrangler (4+ pack animals)
These wilderness pack trips are designed with the backpacker and mountain climber in mind. We will pack your gear and/or backpacks into the wilderness (to 16 miles) and back out of the wilderness, at your direction. We are the foremost outfitter that packs into the Titcomb Basin but also pack from all other trailheads.
Horseback Riding
We cater our trail rides to the individual group and can supply a horse that is best suited to your individual abilities. Both 1/2 and Full day rides are offered. These rides can be combined with Day Fishing, photography and wildlife options.
Full Day: $200/person/day includes your experienced guide, your horse and all tack, and a trail lunch
Half Day: $150/person/day includes your experienced guide, your horse and all tack