Outfitters, Guide & Packers School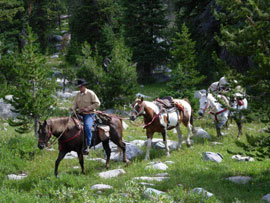 Do you want to work in the exciting field of Outfitting, Guiding and Packing? If so, read on...
Learn this exciting, rewarding, and challenging business from the best in the business!
We offer a 30 day hands on classes June 1 - 30, 2009
Cost for our 30 day Hands On Course is $3850 per student
We schedule 6-8 students per month
Everything provided during the month such as Room and Board, Horses, Mules, Tack, Tents, etc.
Job Placement upon completion of both the Hands On Course and the Correspondence Course.
For more information, call us at 307-367-6539, email us at tpollard@wyoming.com, or click here for a free brochure.