Black Bear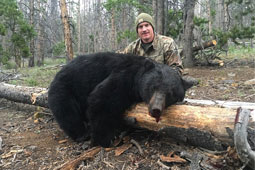 Black Bear population continues to grow. This bait hunt can be booked in either the spring or fall season, with spring season, historically being the best. We place our baits outside of, but near the Bridger Wilderness Area and have historically taken some extremely good Trophies. We historically take a very large percentage of color phase bears. We are currently on a "Female Mortality Quota System" and the season varies accordingly. Your lodging will be provided at our Burnt Lake Drive-in Base Camp, local motels/lodges in Pinedale, depending on the season, our best chance of harvest and your particular wants. Licenses can be purchased upon arrival.
5 Day Hunt: $4,500.00 plus 4% tax
Click here to view more photos.